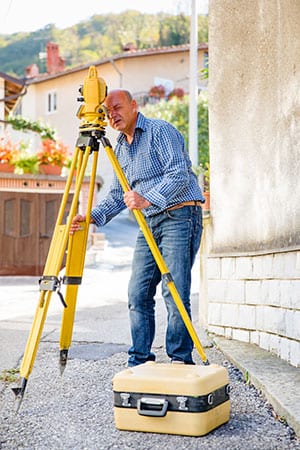 When you are purchasing a new home, there are many parts of the home buying process that are mandatory and others that are optional. In North Carolina, one of the discretionary options is getting a survey completed prior to closing. There are many reasons why your real estate attorney will most likely advise you to get one done even though it might seem unnecessary if the property lines seem to be easily determined.
First of all, if you are going by fences, area mowed, or any other strictly visual determinate, they could easily be incorrect. In fact, even legal descriptions can sometimes be wrong. It is far better to resolve any errors before you purchase so that your title insurance affects that which is truly yours in the purchase.
Another reason to get a survey is so that you are aware of the exact boundary lines before erecting a building, fence, or other improvement. You also need to know if there are any abandoned roads, easements, or right-of-way conditions that affect your use of the property. Although rarer, there can also be encroachments, joint driveways, party walls, an old cemetery, issues with access, and other unique situations. If you plan to do any improvements, you should also ask for the survey to include underground utilities or a zoning classification that could limit what you can do.
At Bright Law, PLLC, we always recommend that buyers invest in a survey as part of the home buying process. As a real estate lawyer serving several counties in North Carolina around our office in Huntersville, North Carolina, we will do our part to be sure that you have all the information you need about real estate law and concluding your transaction successfully. Reach out today with any questions that you might have.